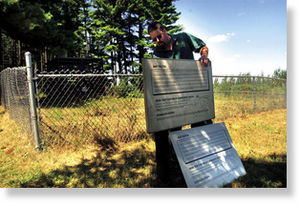 Approximately 50,000 bats that make their home in the Millie Hill mine could be in danger if a deadly disease, called white-nose syndrome, makes its way to the Midwest.
The disease's name comes from the distinctive white smudges that appear on the noses and wings of infected bats. Researchers at the U.S. Geological Survey's Wildlife Health Center discovered that the smudges are actually a previously unknown fungus that thrives in the cold of winter caves.
However, no one seems to know whether the smudges are the cause of the disease or just a symptom.
White-nose syndrome causes bats to rouse more than usual and deplete their stores of body fat that they need during hibernation, said Bill Scullon, wildlife biologist at the Michigan Department of Natural Resources (DNR) office in Escanaba.