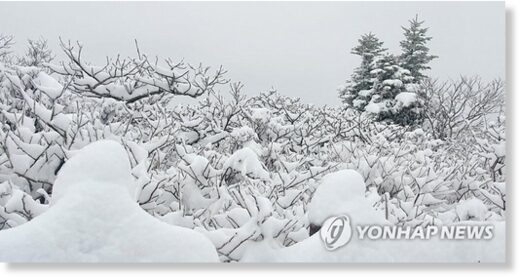 Unseasonal snowfall blanketed mountainous areas of Gangwon Province, east of Seoul, on Friday, the last day of April usually known in South Korea as a season of early summer-like warm weather.
Late-night rain turned into snow in the Gangwon mountains 1,300 meters above sea level early Friday morning,
with 15 centimeters of snow recorded on and around the peak of Mount Seorak,
about 200 kilometers east of Seoul, as of 9 a.m., according to national park officials there.
Similar amounts of snow also piled up on other renowned Gangwon mountains, such as Mount Balwang and Mount Odae, offering unseasonal winter scenery, they said.