Researchers in a remote jungle in Indonesia have discovered a giant rat and a tiny possum that are apparently new to science, underscoring the stunning biodiversity of the Southeast Asian nation, scientists said Monday.
Unearthing new species of mammals in the 21st century is considered very rare. The discoveries by a team of American and Indonesian scientists are being studied further to confirm their status.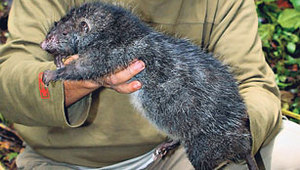 ©Unknown
The animals were found in the Foja mountains rainforest in eastern Papua province in a June expedition, said U.S.-based Conservation Inter­national, which organized the trip along with the Indonesian Institute of Science.