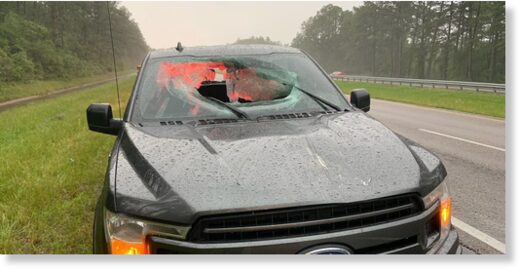 Two people were injured by lightning in Walton County, Florida, just after 7:30 a.m. Monday morning. The way in which they sustained their injuries just probably isn't what you're thinking.
As heavy thunderstorms rolled through the Florida Panhandle, there were numerous lightning strikes occurring -- including plenty that were cloud-to-ground. One of those strikes happened to hit the eastbound side of I-10 around mile marker 81.
Upon impact, the lightning strike sent a chunk of the interstate flying through the air.

That debris went through the windshield of a Ford pickup traveling on I-10 before then exiting through the back window. Both the windshield and back window were shattered by the force of the impact.