A possible pause to the heavy rain that has caused widespread flooding on Queensland's Sunshine Coast could stop the worst fears of rescuers from being realised today, but residents have still been evacuated from at-risk areas after the region was bucketed in recent days.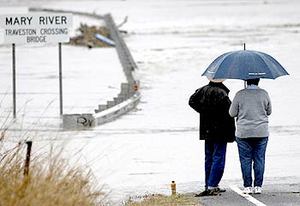 ©John Wilson
Cut off ... Sunshine Coast residents look at the flooded Mary River.
While the flooding is now forecast to be less severe today than earlier feared, the wild weather has brought huge swells to the Gold Coast and Sunshine Coast, forcing beaches there to be closed.