The phenomenon of "shimmering" in giant honeybees, in which hundreds - or even thousands - of individual honeybees flip their abdomens upwards within a split-second to produce a Mexican Wave-like pattern across the bee nest, has received much interest but both its precise mode of action and its purpose have long remained a mystery.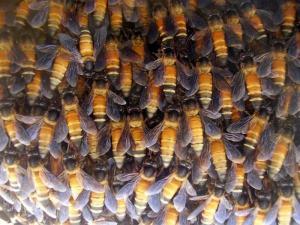 ©Wikimedia Commons
A hive of Apis dorsata (giant honey bees).
In a new study published in the journal
PLoS ONE
this week, researchers at the University of Graz, Austria, and the Royal Botanic Gardens Kew, UK, report the finding that shimmering - a remarkable capacity of rapid communication in giant honeybees - acts as a defensive mechanism, which repels predatory hornets, forcing them to hunt free-flying bees, further afield, rather than foraging bees directly from the honeybee nest.
South-East Asian giant honeybees (Apis dorsata) occur in single-comb nests in the open, preferring traditional nest sites with aggregations of hundreds of colonies on trees, rocks or human buildings, which they may revisit over years. Honeybees manage the pool of worker bees in an elaborate trade-off between foraging and defense. The bees' main defensive goal is to make the nest site a shelter zone for colony members, as well as a place of danger for potential predators. In order to set the entry fee for predators as high as possible, and to efficiently safeguard the colony's resources (keeping losses and expenses to a minimum), a plethora of defensive tactics has evolved in giant honeybees, both "aggressive" and "docile" behaviors being employed.