Bees are in trouble, and in Washington, that could mean agriculture is, too.
Last year, many Washington beekeepers were relieved that they avoided a mysterious Colony Collapse Disorder that silenced hives all over the country. But this year, some beekeepers are reporting a devastating new pathogen - with no reliable cure - is killing their bees in droves.
Some beekeepers are helping to pay for a crash research program at Washington State University to figure out what is going on.
"It's a major disaster in Western Washington. We are into a huge emergency situation," said Yakima beekeeper Eric Olson, who runs the state's largest commercial pollination business.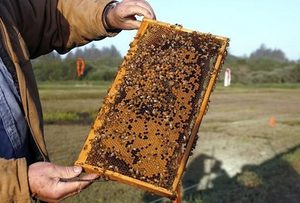 ©Dean Rutz / The Seattle Times
Yakima beekeeper Eric Olson holds a hive loaded with bees in Long Beach, Pacific County. A new pathogen is devastating the hives of some Washington beekeepers.