Miami - Hurricane Gustav barreled toward vulnerable Haiti on Tuesday and appeared set to become a "major" storm later in the week as it neared the Gulf of Mexico where the United States produces a large amount of oil and gas.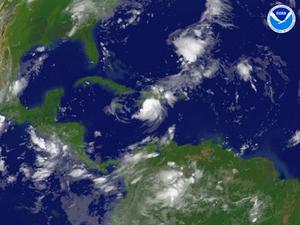 ©REUTERS/NOAA/Handout
Hurricane Gustav is seen in a satellite image taken August 26, 2008.
The 7th storm of the 2008 Atlantic hurricane season had top sustained winds of 85 miles per hour (140 km per hour) by 5 a.m. EDT, making it a Category 1 hurricane on the five-step Saffir-Simpson scale of storm intensity, the U.S. National Hurricane Center said.
Gustav was likely to become a Category 2 storm before striking the southwestern peninsula of impoverished Haiti later on Tuesday and then move westward south of Cuba over deep warm waters that provide tropical cyclones with fuel.