A new University of Sussex study provides evidence that gorilla communication is linked to the left hemisphere of the brain - just as it is in humans.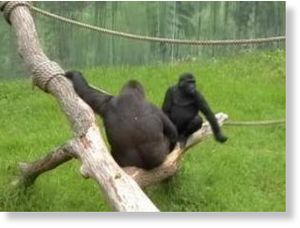 Psychologist Dr Gillian Sebestyen Forrester developed a new method of analysing the behaviour of gorillas in captivity and found there was a right-handed bias for actions that also involved head and mouth movements. The right side of the body is controlled by the left hemisphere of the brain, which is also the location for language development.
The findings could provide major clues as to how language developed in humans. Dr Sebestyen Forrester says: "We shared 23 million years of evolution with great apes and then diverged approximately six million years ago. Gorillas have highly-complex forms of non-verbal communication. I think we are looking back at what sort of communication skills we may have once had."