A band of hail, heavy rain and twisters pounded Arkansas, Texas and Oklahoma Thursday, damaging hundreds of homes, flooding roads and leaving thousands without power.
Arkansas already was contending with three weeks of flooding and the aftermath of 10 tornadoes that struck last week when the latest storm hit.
"It's just getting worse," sheriff's dispatcher Nola Massey said. "We're just trying to get everybody to stay home and not get out in it."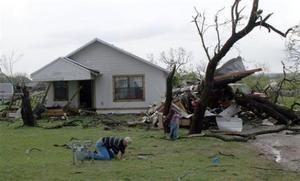 ©Tony Pilkington
Jeremy Dickey of Breckenridge, Texas, tries to turn off the water to his house after it was struck by an apparent tornado Wednesday evening, April 9, 2008. Dickey wasn't home at the time, but his wife, Tina, and two children, ages 4 years and 8 months, hid in an interior closet he had reinforced as a shelter. They were not injured, but the house was moved 10 feet off of its foundation. Breckenridge police said they have reports of a few minor injuries, but didn't have a full count. Power lines were down and at least five homes were destroyed, police said.