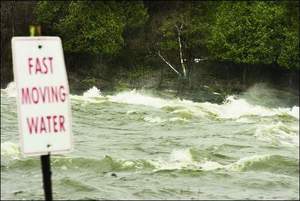 ©COLLEEN WHITE / WATERTOWN DAILY TIMES
The Black River is running high and fast, as seen from the fishing access point in Glen Park Friday. The U.S. Geological Survey has issued a flood watch through Sunday.
Less than four inches from cresting its banks, the Black River is expected to exceed its 10-foot flood stage tonight or early Sunday morning.
"Those living near the Black River should be prepared to take action should flooding develop," a U.S. Geological Survey release circulated Friday states.