Three dead blue whales have been found floating off the coast of Southern California within the past two weeks, alarming and puzzling marine mammal experts.
As many as 200 blue whales, members of the largest species on Earth, have been feeding in the Santa Barbara Channel during their annual summer migration from Mexico and Central America. About 3,000 of the world's 12,000 blue whales swim off the west coast of the Americas.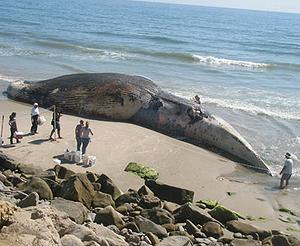 ©SBMNH
A necropsy was done on the first blue whale carcass found last week near Ventura, California.