Biogeoscientists show evidence of 90 billion tons of microbial organisms--expressed in terms of carbon mass--living in the deep biosphere, in a research article published online by
Nature
, July 20, 2008. This tonnage corresponds to about one-tenth of the amount of carbon stored globally in tropical rainforests.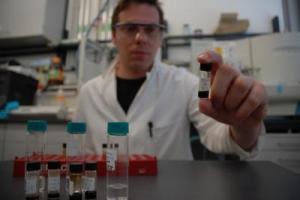 ©Albert Gerdes, MARUM/Bremen
Researcher Julius Lipp, Ph.D., of Bremen University, Germany, with some of his samples.
The authors: Kai-Uwe Hinrichs and Julius Lipp of the Center for Marine Environmental Sciences (MARUM) at University of Bremen, Germany; and Fumio Inagaki and Yuki Morono of the Kochi Institute for Core Sample Research at the Japan Agency for Marine-Earth Science and Technology (JAMSTEC) concluded that about 87 percent of the deep biosphere consists of Archaea.