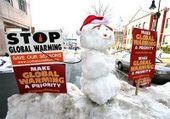 Every time I hear someone say something about "saving the Earth" I want to say, "Are you out of your mind?"
The Earth is some 4.5 billion - that's billion with a b - years old. How did it ever manage to exist without us? How did it survive ice ages, meteor impacts, and all the other stuff that went on before homo sapiens decided to climb down out of the trees and walk upright?
If human beings are responsible for "global warming" how did the Earth manage to get through various earlier stages such as the Permian, Triassic, Jurassic, Paleocene, Eocene, Oligocene, Miocene, Pleistocene, and our era, the Holocene which reaches back a mere 10,000 years; a period that matches up with the ending of the last major ice age.