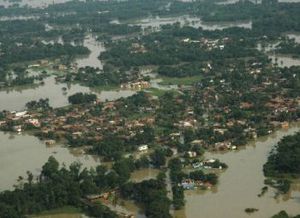 ©Ranjeet Kumar
SWAMPED: An aerial view of a part of Darbhanga district in North Bihar on Saturday.
The State Government on Saturday owned the blame for the police firing on flood victims in which one person was killed and three others were injured in Madhubani on Friday.
A two-member administrative team, comprising Home Secretary Afzal Amanullah and Additional Director General CID Yashwant Malhotra, held the police firing "unwarranted" and placed Havildar Aditya Narain Singh, who opened fire, under suspension.