The glaciers of the Himalayas store more ice than anywhere on Earth except for the polar regions and Alaska, and the steady flow of water from their melting icepacks fills seven of the mightiest rivers of Asia.
Now, due to global warming and related changes in the monsoons and trade winds, the glaciers are retreating at a startling rate, and scientists say the ancient icepacks could nearly disappear within one or two generations.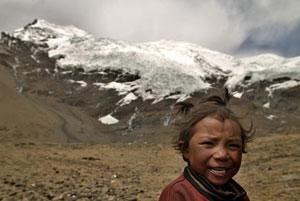 ©Bernardo De Niz/MCT
A Tibetan girl poses in front of one of the glaciers on the Tibetan Plateau.