SANTIAGO - A volcano spewed ash over Patagonian towns in southern Chile on Sunday, two days after its first eruption in thousands of years forced authorities to evacuate some 4,000 residents.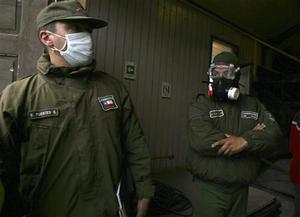 ©REUTERS/Ivan Alvarado
Police wear masks to protect them from ash, in Chaiten, located some 1220 km (760 miles) south of Santiago May 3, 2008.
Local media said an elderly woman died as rescue teams evacuated the last remaining people from the town of Chaiten, close to where the snow-capped volcano of the same name erupted on Friday, triggering earth tremors and sending a cloud of ash two miles into the air.