Roofs, windows and vehicles were damaged -- and a horse was killed -- as a severe thunderstorm coupled with high winds and hail the size of softballs drove across a large swath of southern Manitoba yesterday and Thursday night.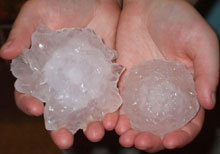 ©Bev Birss
Hailstones measuring as large as 10 centimetres in diameter fell on Dauphin, Man., during the late-evening storm.
The storm left thousands of people without power, closed a provincial park and two golf courses near Winnipeg, forced campers at the Birds Hill Provincial Park to flee their tents, and knocked over thousands of trees.