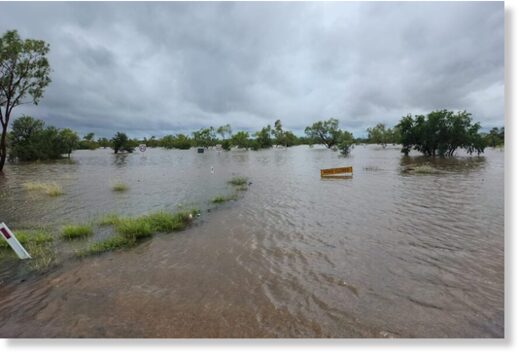 Roads have turned into rivers, cows are struggling to survive in fast flowing waters and boats have become the only form of transport in parts of the central Kimberley as ex-Tropical Cyclone Ellie continues to batter Northern Australia.
The extreme weather system is hovering across central Kimberley between Fitzroy Crossing and Halls Creek bringing major flooding to the region,
with more than 350 millimetres of rain recorded at Dimond Gorge in the Fitzroy River catchment on Monday.
The Bureau of Meteorology has issued almost a dozen severe weather warnings for the Northern Territory and Western Australia over the past week as torrential rain fell and damaging winds reached gusts of around 100 kilometres per hour.
At Fitzroy Crossing, a small town 400km east of Broome, a major flood warning is in place, with the river expected to exceed the major flood level of 12.5 metres on Monday afternoon.