A volcanic eruption off Iwo Jima in the Pacific Ocean on Oct. 30 led to the formation of a 330-foot-wide island just north of the explosion site.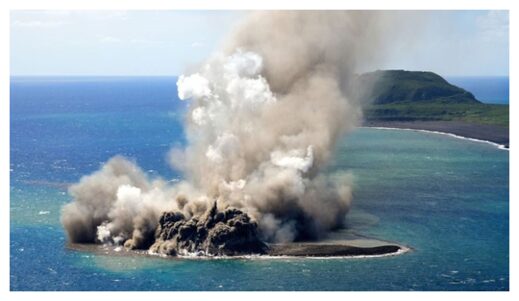 An underwater volcanic eruption on Oct. 30 has birthed a new island in the Pacific after the explosion flung huge chunks of rock into a pile off the coast of Japan's Iwo Jima island.
An aircraft belonging to the Japanese newspaper
Mainichi Shimbun
spotted the first signs of an eruption in the southern part of the Izu-Ogasawara arc, roughly 750 miles (1,200 kilometers) south of Tokyo, around midday local time. Explosions occurred every few minutes as red hot magma hit water below the surface, throwing large blocks of rock more than 160 feet (50 meters) into the air, according to a translated
statement
.
The eruption breached the ocean surface in at least two locations, researchers at the University of Tokyo said in the statement, with explosions occurring only off the southernmost tip of Iwo Jima. Rocks also piled up north of the explosion site, however, forming a round and rugged island about 330 feet (100 m) across. Waters surrounding this new island were discolored and littered with pumice, a type of extremely porous rock that forms during explosive volcanic eruptions.
"Floating pumice and discolored water occur from the entire periphery of the island, suggesting that magma is erupting from this location," researchers wrote in the statement. Rocks on the island formed a concentric pattern, they noted, but there was no sign of a crater on the surface.
Several underwater eruptions have been recorded in this region in recent years.
Known as phreatic eruptions, these events
are characterized by explosions
of steam and volcanic material at the surface. They are triggered when water comes into contact with sizzling magma, lava, rocks or other scalding deposits.