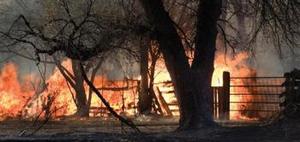 ©AP Photo/Pueblo Chieftain, Chris McLean
Farm structures, fence, trees and brush go up in flames on rural property near Ordway, Colo., on Tuesday, April 15, 2008. What started as a grass fire southeast of the small town in southeastern Colorado quickly grew into a massive blaze as high winds fueled flames and destroyed houses and agricultural ground.
Firefighters were hoping rain and snow Wednesday would help them quell blazes that scorched thousands of acres, forced hundreds of residents to evacuate and left three people dead.