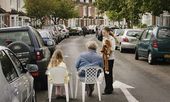 Krakatoa, east of Maidstone? Not exactly, but tremor did reach 2.8 on Richter scale.
People in Folkestone, Kent were shaken, but not stirred, by a small earthquake in their vicinity yesterday.
A tremor measuring 2.8 on the Richter scale was registered but there were no reports of any damage to buildings or any injuries.
Kent police said: "We have had ­telephone calls and obviously people were concerned that it might be a bomb, but we can confirm it was indeed a tremor."