A two-year-old mud volcano that is still spewing huge volumes of boiling mud, has displaced more than 30,000 people and caused millions of dollars in damage on the island of Java was triggered by the drilling of a gas exploration well, an international team of scientists has concluded.
The most detailed scientific analysis to date of the mud volcano disproves the theory that an earthquake that happened two days before it erupted in East Java, Indonesia, was to blame.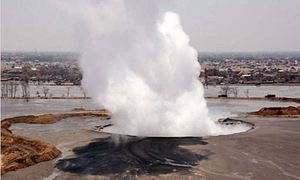 ©Durham University
The main vent of the Lusi mud volcano taken within a few months of eruption.