If you are a parent, then you know kids will sometimes bring home a new pet. But when a little boy brought a 9-legged frog home to Kansas, some adults got worried.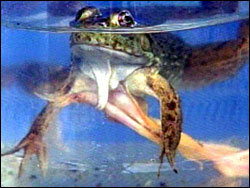 ©11Alive.com
The 9-legged frog is raising concerns about a former landfill.
Looking from above, the frog may seem normal. But with a closer look, it's clear there is a problem.