Earth Changes
Sana'a, Yemen - At least two men were rescued in dramatic fashion from the Red Sea, but three more were reported dead on Monday as a volcano blasted a small Yemeni island under the sea.
Comment:
Oddly, the supposed 3.7 earthquake that preceded the eruption never registered on the
seismic maps
.
---
---
A volcano has erupted on a tiny island off the coast of Yemen, spewing lava and ash hundreds of feet into the air, a Canadian naval vessel near the island in the Red Sea reported. There were no immediate reports of deaths, but at least eight people were missing.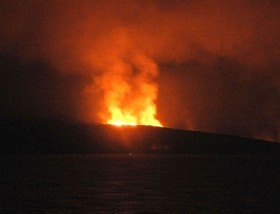 ©Reuters
The entire 3-km-long island was aglow with lava and magma as it poured into the sea.
---
Ben Harding
Reuters
Mon, 01 Oct 2007 00:06 UTC
---
Xinhua
Sun, 30 Sep 2007 10:11 UTC
Eight people were buried alive in stones and mud Saturday night when their houses were washed away in a landslide in a village in Ifugao, northern Philippines, said local radio DZMM.

Earlier reports by local civil defense officials put the number of dead at five, while one boy was injured and four were reported missing.
---
A strong earthquake with a magnitude of 7.4 hit some 500 km (300 miles) southwest of New Zealand on Sunday, but there were no reports of damage and authorities discounted the risk of a major tsunami.

The quake occurred at around 6:24 p.m. local time, and was felt throughout the south of New Zealand's South Island, said Warwick Smith of state agency GNS Science.
---
TOKYO - A strong earthquake with an estimated magnitude of 7.1 hit near the U.S. Pacific territory of Guam on Sunday, Japan's Meteorological Agency said, but island media said there were no immediate reports of injuries.

Guam's Pacific Daily News said the quake could be felt in high-rise buildings on the island, which is home to a major U.S. military base.
---
---
A nasty algae that can suffocate habitat and food sources for fish has been found in a creek in one of Wyoming's premier watersheds, according to a river group.

Didymo, an algae commonly called "rock snot," was found in Lake Creek, a tributary of the Snake River, by the U.S. Geological Survey, the Snake River Fund reported Friday.
---
AAP
Sat, 29 Sep 2007 15:41 UTC
More than 100 mountaineers, including one from Australia, are trapped in the northern Indian hill state of Himachal Pradesh after heavy snowfall and blizzards, news reports say.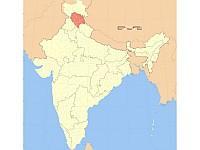 ©Unknown
The five teams of missing climbers included seven German nationals, eight Russians and an Australian, Uttarakhand official PC Dandriyal was quoted as saying by PTI news agency.
---