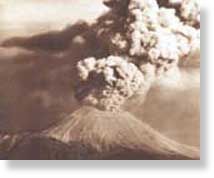 Mount Vesuvius remains a threat to hundreds of thousands of people even though the volcano overlooking the southern Italian city of Naples has not erupted since 1944, a geologist warned Wednesday.
"Vesuvius is a very dangerous volcano," Francesco Russo told a news conference in Rome. "According to some statistics, there is a 27 percent chance of an explosive eruption in the next 100 years."
Russo, head of a Naples-area geologists association, said civil protection measures against a possible eruption were "inadequate."
"Some 600,000 people live in the 'red zone,' meaning they would be directly threatened by this type of explosion," he said. "But we're not sure we would be able to evacuate them."
Even with a week's warning, "it would be difficult," he said.