Blizzards, ice and flooding have ravaged Western Europe over the past few days. At least 25 people were injured by a tornado in Malaga, Spain, while heavy snowfall has left thousands stranded in airports and traffic jams across much of the continent.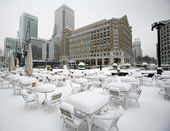 Dramatic winter weather hit Spain, England, Belgium, France and Italy over the weekend leaving many commuters stranded due to the ensuing traffic chaos.
In southern Spain, a tornado with wind speeds of up to 180 kilometers (112 miles) per hour left at least 25 people injured in the coastal city of Malaga. The roofs of a bus station and parking garage in the city were blown off, billboards torn to the ground and windowpanes shattered. Two highways near Madrid had to be temporarily closed and the train between Malaga and Madrid was shut down due to rail damage from a fallen wall.