The Nazca booby, a Galápagos Island seabird, emerges from its shell ready to kill its brother or sister. Wake Forest University biologists and their colleagues have linked the murderous behavior to high levels of testosterone and other male hormones found in the hatchlings.
The study appears in the June 18 edition of the online journal PLoS ONE available
here
.
The elevated levels of male hormones, called androgens, increase aggression in both male and female chicks and prepare the birds to fight to the death as soon as they hatch, said David J. Anderson, professor of biology at Wake Forest and project leader.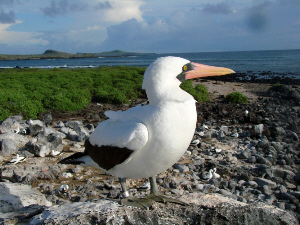 ©Wake Forest University
Adult Nazca booby.