Baby crocodiles start chatting to one another and to their mothers just before they hatch, researchers say.
The little reptiles make an 'umph! umph! umph!' noise and scientists believe they are signalling they are ready to be born.
"Crocodile mothers react strongly to playback of pre-hatching calls, most of them by digging the sand," Amelie Vergne and Nicolas Mathevon wrote in the journal
Current Biology
.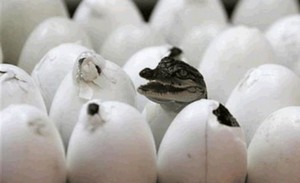 ©Unknown
Crocodiles signal to each other just before they hatch