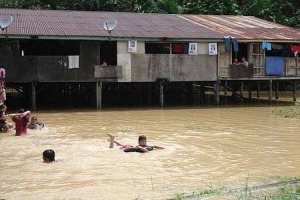 ©Unknown
Water logged: A longhouse in Limbang parliamentary
constituency in Sarawak hit by floods after heavy rain.
Political campaigning in three huge and remote parliamentary constituencies in northern Sarawak - Baram, Limbang and Lawas - have been brought to a premature halt by massive floods - which could also force the announcement of election results in these areas to be postponed to Sunday.
Floods as high as 1.2m have hit longhouses, timber roads, semi-urban villages and several parts of the Pan Borneo Highway after heavy rain over these interior regions from Wednesday afternoon.