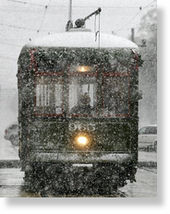 Winter officially arrived with Sunday's solstice. But for many Americans, frigid January-like conditions have prevailed for weeks.
Christmas and Hanukkah travelers are delayed if not stranded at airports on the northwest and northeast coasts. Snow clogs runways, and ice coats airplane wing flaps as Americans wait extra hours and days to reach their loved ones.
New Englanders still lack electricity after a December 11 ice storm snapped power lines. Some 3,900 Granite State customers remain in the dark after what PSNH, the local utility, called "the most devastating natural disaster to hit New Hampshire in recent history." Over the weekend, snow similarly knocked out the lights in Illinois, Indiana, and Missouri.