One of Alaska's most active volcanoes could be working toward a massive eruption that could affect air travel but was not expected to threaten any of the towns in the area, scientists said Thursday.
Satellite images of Pavlof Volcano taken Thursday showed strong thermal readings, consistent with what the Alaska Volcano Observatory is calling a "vigorous eruption of lava" at the volcano about 590 miles southwest of Anchorage on the Alaska Peninsula.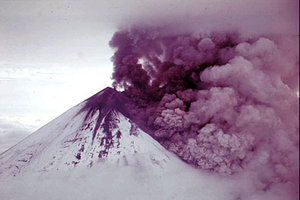 ©Alaska Volcano Observatory, AP
Scientists say the Pavlof Volcano in Alaska, seen here in an undated photo, is set to blow. Although it may disrupt air travel, the volcano doesn't make the list of the five most dangerous in the U.S.