A day of record rainfall Monday in Metro Detroit caused havoc for motorists and residents who endured power outages and severe flooding and turned some streets into muddy swamps that left 100 homes in Dearborn inundated.
Through 7 p.m. Monday 1.62 inches was reported at Detroit Metro Airport, passing the one-day record of 1.5 inches set in 1904, said National Weather Service meteorologist Greg Mann.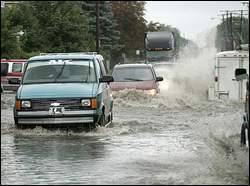 ©David Guralnick / The Detroit News
Motorists wade through a flooded Central Street in Detroit. Elsewhere, some passers-by stopped to help motorists in trouble, and some charged for their services.