The radar screen confirmed what the torrential rain was suggesting Sunday morning: Tropical Storm Erin had confused Oklahoma for the Gulf Coast.
In what the National Weather Service termed "an extraordinary event,"
the storm re-intensified just south of the Red River and developed sustained winds greater than tropical storm magnitude
.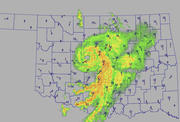 ©Oklahoma's Mesonet
This image provided by the Oklahoma Mesonet shows the remnants of Tropical Storm Erin as it moved across Oklahoma just before 6 a.m. Sunday.