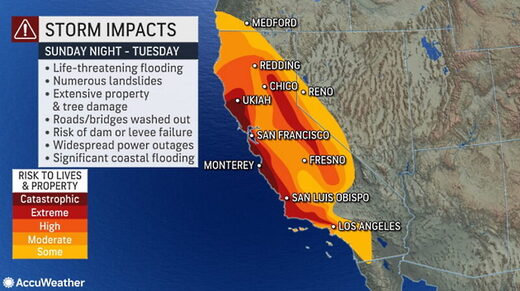 AccuWeather meteorologists warn that a moisture-packed system set to arrive early next week could be the strongest in a Pacific storm train that has been rolling since the end of 2022.
Another atmospheric river will bring heavy rain and mountain snow to California and neighboring states into early next week.
California has faced a
frenzy of storms
that have unleashed deadly impacts since the end of 2022, and AccuWeather meteorologists say the onslaught is far from over. One storm in the bunch is poised to aim a firehose of moisture at the Golden State early in the new week, potentially leading to "catastrophic" flooding, in addition to widespread mudslides and road closures, forecasters say.
"The impacts from this storm cannot be understated," AccuWeather Meteorologist Joe Bauer said.