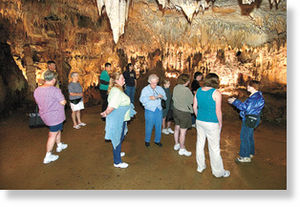 Samples of bats found in the Endless Caverns show cave and suspected of having the deadly white-nose syndrome have been sent to a federal testing facility, the Virginia Department of Game and Inland Fisheries confirmed Friday.
If the tests come back positive, it will be the first confirmed case in Rockingham County of the mysterious disease that has wiped out hundreds of thousands of bats in the Northeast. The disease showed up in Virginia for the first time earlier this year, but until now, no bats in the central Valley had been suspected of having the illness.
White-nose syndrome is named for the ring of white fungus that typically appears on infected bats' snouts, and sometimes on other body parts such as wings.