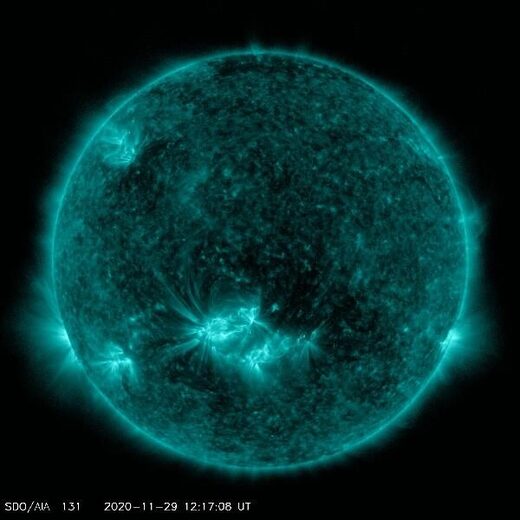 Yesterday (Nov. 29th at 1311UT), Earth-orbiting satellites detected the biggest solar flare in more than 3 years.
NASA's Solar Dynamics Observatory recorded this extreme-ultraviolet movie of the
M4.4
category blast.
X-rays and UV radiation from the flare ionized the top of Earth's atmosphere, producing a shortwave radio blackout over the South Atlantic:
map
. Ham radio operators and mariners may have noticed strange propagation effects at frequencies below 20 MHz, with some transmissions below 10 MHz completely extinquished.
Remarkably, this flare was even bigger than it seems. The blast site is located just behind the sun's southeastern limb. As a result, the explosion was partially eclipsed by the body of the sun.
It might have been an
X-class
event.
The flare also hurled a significant coronal mass ejection (CME) into space, shown here in a
coronagraph
movie from the Solar and Heliospheric Observatory (SOHO).