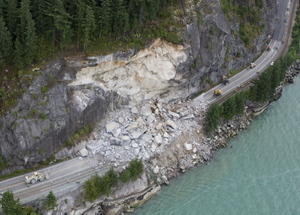 ©The Canadian Press / Jonathan Hayward
A massive rock slide blocks the Sea-to-Sky highway near Porteau Cove, B.C. after a cliff face collapsed onto the highway.
Peter Skeels's bus was lumbering up the highway that winds through British Columbia's breathtaking coastal mountains when he heard a roar that sounded like violent hail.
He drove through and it wasn't until a few minutes later, when Skeels pulled over and saw the bus covered in dents and its windows shattered, that he realized the hailstorm was really a massive pile of rocks and boulders raining down on the road.
"There was suddenly an unbelievable noise, it sounded like a hailstorm - you didn't really know what to make of it," said Skeels, who lives in Whistler and regularly drives the highway between Vancouver and the mountain resort community that will jointly play host to the 2010 Winter Olympics.