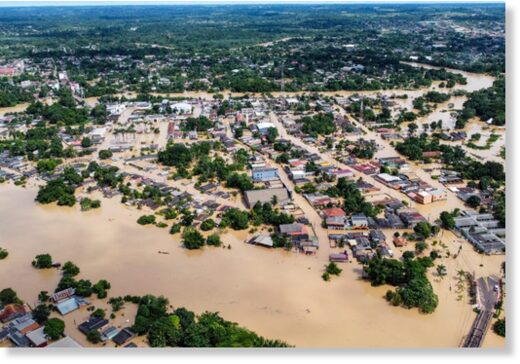 Rising levels of the Acre River along the borders of Acre state in northwestern Brazil and Pando Department in northern Bolivia.
Heavy rain and the overflowing Acre River flooded wide areas of the city of Rio Branco, the capital of the state of Acre in Brazil, on 23 March 2023. The city recorded 124.4 mm of rain in 24 hours to 23 March 2023, according to figures from Brazil's Instituto Nacional de Meteorologia (INMET).
The Acre River at Rio Branco jumped from around 8 metres to 15.80 metres in 24 hours. The flood level here is 14 metres.
Streets and homes were damaged across 10 neighbourhoods including Placas, Calafate, Belo Jardim II, da Paz and Hélio Melo. Authorities helped to evacuate some residents who took refuge in school buildings in the Conquista neighbourhood.