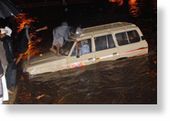 Sanaa - Aid operations swung into higher gear in Yemen on Saturday after floods killed at least 58 people and six more died from lightning strikes during two days of fierce storms.
The interior ministry, updating an earlier toll, said at least 58 people died in flooding fed by torrential downpours that hit Hadramaut and Mahara provinces on Thursday and Friday.
At least five others were reported missing in Mahara.
Four people were also killed by lightning in the southern provinces of Tayez and Lahj, and a mother and son also died when struck by lightning in the Al-Mahwit region north of the Yemeni capital Sanaa.