Hong Kong - Typhoon Nuri struck southern China on Friday, killing three people after barreling through Hong Kong, shutting down most of the financial hub with gale-force winds and disrupting hundreds of flights.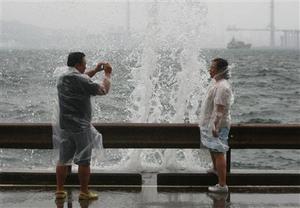 ©REUTERS/Stringer
A man takes a photograph on the waterfront during typhoon Nuri in Hong Kong August 22, 2008.
Downgraded to a severe tropical storm, Nuri made landfall in southern Guangdong in the late evening. Strong winds in the provincial capital of Guangzhou toppled an expressway traffic sign, which crushed a van and killed its three passengers, Xinhua News Agency reported on Friday.
Torrential rain is expected over the weekend as Nuri moves northwest, ebbing gradually, it added. The typhoon is now headed along the Guangdong coastline towards the gambling hub of Macau, where flights and ferries were also cancelled.
Much of Hong Kong ground to a standstill on Friday with the closure of financial markets, schools and offices. Howling winds swept across the former British colony, uprooting trees and churning white-tipped waves in Victoria harbor.