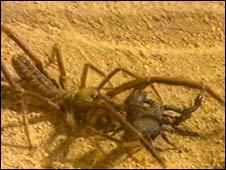 ©Unknown
A camel spider attacking a scorpion in the desert
A soldier's family have been frightened out of their home by a spider thought to have been brought to Essex from Afghanistan in a kitbag.
Lorraine Griffiths and her three children have moved out of their house in Colchester, the RSPCA said.
They are refusing to return until the large sandy-coloured creature, thought to be a camel spider, is captured.