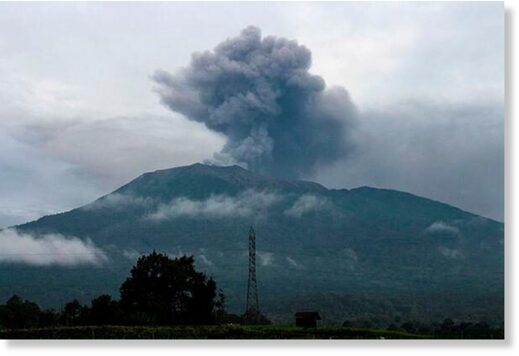 Eleven hikers have been found dead near the crater of Indonesia's Mount Marapi volcano after it erupted over the weekend, rescuers say.
Twelve others are missing and the search was suspended on Monday after another, smaller eruption.
There were 75 hikers in the area during the main eruption on Sunday but most were safely evacuated.
Marapi spewed a 3km (9,800ft) ash cloud into the air, dimming the sky and blanketing surrounding villages in ash.
It is among the most active of Indonesia's 127 volcanoes and is also popular among hikers. Some trails reopened only last June due to ash eruptions from January to February. Marapi's deadliest eruption occurred in 1979, when 60 people died.
Three people were rescued near the crater on Monday before the search was suspended. They were "weak and had some burns", said Abdul Malik, head of the Padang Search and Rescue Agency.