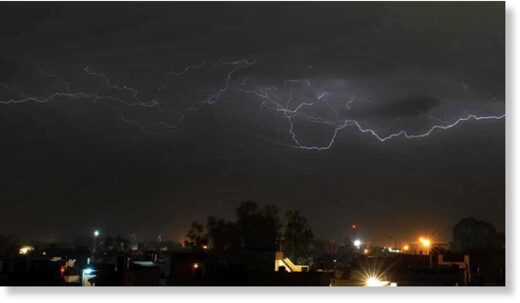 Weather conditions that are forming certain kinds of clouds and bountiful rains in the region that are encouraging paddy farmers to be out in the field planting the crop have together resulted in a quiet tragedy in east Uttar Pradesh and Bihar that has gone almost unnoticed during the Covid-19 crisis -- death from lightning strikes.
There were 26 deaths on Thursday in Bihar alone from such strikes (or flashes as they are called scientifically). On Friday, 15 people were killed in lightning strikes in different districts of the state. Another 21 people lost their lives and over 40 were injured due to lightning amid heavy rain and thunderstorms in seven districts of Bihar on Saturday. And at least 253 more people have lost their lives to lightning strikes and 49 have been injured in the past one and half months
with 90% of the deaths recorded in Uttar Pradesh and Bihar, according to data from the National Disaster Management Authority. The injured are undergoing treatment in local hospitals. Most of the casualties are farmers and labourers who were doing agriculture-related work in fields. Chief minister Nitish Kumar has expressed grief over the loss of lives. He has announced an ex-gratia of four lakh rupees each to the next of the kin of the deceased. Kumar has ordered free treatment of injured persons.