MEXICO CITY - One person was killed and more than a million people affected by flooding in Mexico's southern state of Tabasco, officials said, as hundreds of thousands Friday waited for rescuers to pull them out of their homes in the worst floods ever in the region.
The oil-rich state the size of Belgium is now 80 percent underwater, officials said, adding that they expect more rain in the next days.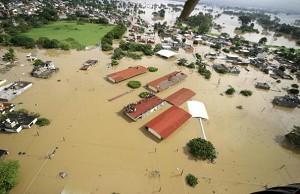 ©Gilberto Villasana/AFP/Getty Images
General view of a flooded area in the city of Villahermosa, Tabasco state, Mexico on November 1, 2007. More than 700.000 people were affected by the heavy rain --unrelated to Hurricane Noel-- in the state of Tabasco.