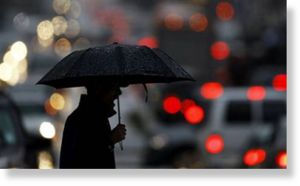 Nor'easter expected to make for messy evening commute, and up to 16 inches of snow in high elevations
Strong winds, heavy rain and even snow moved into the Northeast on Friday, with the weather expected to get worse for evening commutes and overnight.
By late Friday morning, flights into La Guardia and Newark airports were being delayed by more than an hour due to the wind and rain.
Killington, Vt., had five inches of snow Friday morning and other areas above 4,000 feet saw the white stuff as well, Jim Cantore of weather.com reported for MSNBC. By the time the storm blows through on Sunday, he added, some Vermont and New Hampshire mountains could see
16 inches of snow
.
Forecasters say two low pressure systems will combine to create a strong nor'easter covering most of the northeastern half of the nation, stretching from the Atlantic to the Great Lakes.
The system will pull moisture and energy in from the Atlantic Ocean, kicking up winds up to 50 mph and rainfall ranging between 1 to 3 inches in most areas.