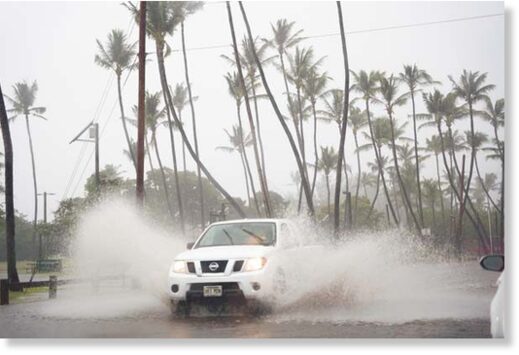 Nearly 2 inches of rainfall saturated South Maui on Friday afternoon, flooding roads, forcing closures and impacting Maui Bus services in the area.
The Maui Emergency Management Agency reported that stationary rain clouds near Kihei caused excessive rainfall in the area. MEMA partially activated its Emergency Operations Center to monitor heavy rainfall and flooding in South Maui, but the center stood down after a flash flood advisory was lifted at about 5:20 p.m., the county said.
According to National Weather Service data, Kihei recorded 1.89 inches of rain from 1 to 4 p.m.
on Friday. Flooding was reported near Kalama Park in the area of Waimahaihai Street and Keala Place, and by 2 p.m., Maui police had closed South Kihei Road from Waimahaihai Street to Kanani Road.