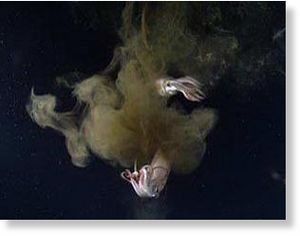 Swimming through warmer, more acidic oceans will feel like swimming through molasses for jumbo squid.
Jumbo squid (Dosidicus gigas), also known as Humboldt squid or red devils, are best known for their voracious appetite and for decimating fish stocks. But according to new research, climate change could make them sluggish - and turn the hunter into the hunted.
Rui Rosa of the University of Lisbon in Portugal and Brad Seibel of the University of Rhode Island, put jumbo squid in tanks that mimicked the warmer and more acidic ocean conditions expected for 2100 if industrial emissions of greenhouse gases are not curbed.
The team found that the squid's metabolic levels dropped by one third and the length of time the squid spent contracting their muscles dropped by almost half.