It sounds like the plot of a B movie.
People scream after finding huge frogs in their toilet bowls. Electrified amphibians cause multiple blackouts. Frogs hitch rides in cars, later surprising unsuspecting drivers.
It's all real, and, according to the University of Florida, the invasive Cuban tree frog is responsible for the chaos. The species has colonized over half of Florida and is now moving in on the rest of the state. The 6-inch-long frogs, which dwarf native tiny tree frogs, have also been found in Georgia, South Carolina, California, Hawaii and Canada.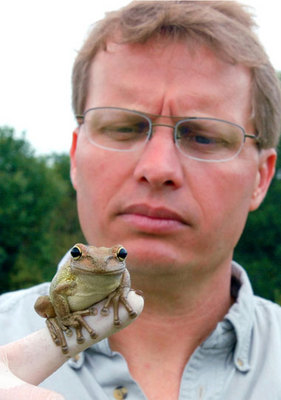 ©AP photo/University of Florida/IFAS/Josh Wickham
In this photo, Steve Johnson holds a Cuban tree frog at the Gulf Coast Research and Education Center in Plant City. The invasive frog, which can be more than six inches long, has colonized the southern half of the state and is moving north.