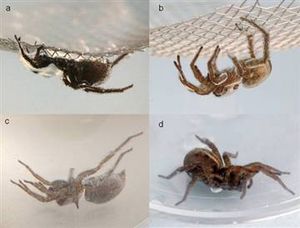 When Julien Petillon wanted to see how long a salt marsh-dwelling wolf spider could survive underwater, he did the logical thing - he submerged them, and waited until they died.
Spiders are known for their resilience to being underwater, so it was no surprise to him that the dozens of Arctosa Fulvolineata in the experiment took almost 24 hours to grow still. What did surprise him is the dead-still spiders then came back to life.
As they lay drying in Petillion's laboratory at the University of Rennes in France, something odd happened: the 'dead' spiders began to twitch. First one small movement, then another - before long the salt marsh spiders were skittering about as though nothing had happened.